Existen cuatro variantes diferentes del famoso
Codec Pack K-Lite
, que van desde un pequeño paquete que contiene sólo los decodificadores más esenciales hasta paquetes más completos que incluyen más funcionalidades.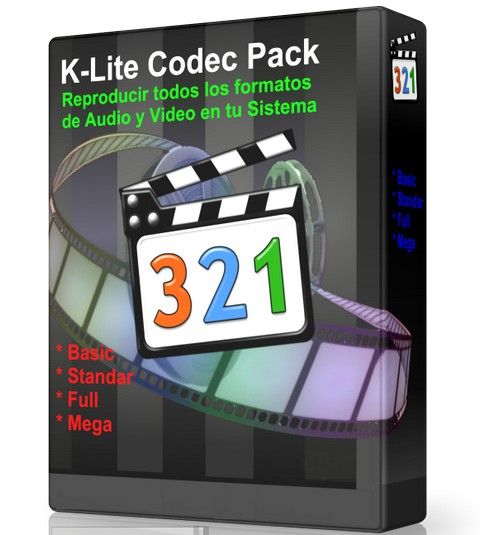 .
K-Lite Codec Pack Mega
, es el paquete más completo y potente. Contiene todo lo necesario para reproducir todos los formatos de audio y archivos de vídeo populares.
Soporta la reproducción de
:
AVI, MKV, MP4, FLV, MPEG, MOV, TS, M2TS, WMV, RM, RMVB, OGM, WebM
MP3, FLAC, M4A, AAC, OGG, 3GP, AMR, APE, MKA, opus, WavPack
y mucho más!
K-LITE CODEC PACK MEGA – PRINCIPALES FUNCIONES
Visualización de subtítulos
Accereration Hardware (DXVA / Cuvid / QuickSync)
Bitstreaming Audio
Las miniaturas de vídeo en el Explorador
Opciones de asociación de archivos
Detección codec Roto
Media Player Classic Home Cinema (MPC-HC)
MadVR (an advanced and high quality video renderer)
MediaInfo Lite
GraphStudioNext
A few additional DirectShow filters:
ffdshow, Haali Media Splitter, VP7, DScaler5, DC-Bass Source
Several ACM and VFW codecs for video encoding/editing
A few additional DirectShow filters:
Xvid, AC3Filter
A few extra small tools
Y mucho más!
El programa de instalación es muy intuitivo y completamente personalizable, por lo que puedes dejar que se instale exactamente aquellos componentes que se adapten a sus necesidades específicas, esto comunmente lo dejo por defecto  con muy buenos resultados, de todas formas, en cualquier momento en que necesites activar alguna funcionalidad específica puedes hacerlo.
Estos paquetes de codecs son compatibles con Windows XP, Vista, 2003, Windows 7 y Windows 8/ 8.1 en sus versiones para 32 bits y de 64 bits, por lo que funcionan muy bien en variantes tanto en x86 y x64 de Windows.
K-LITE CODEC PACK MEGA – CONTENIDO
Player:
Media Player Classic Homecinema [version 1.7.5.195]
DirectShow video decoding filters:
LAV Video [version 0.62-5-ga731178] ffdshow [version 1.3.4530] XviD [version 1.3.2] DScaler5 MPEG-2 decoder [version 0.0.6.0] [IVTC mod]
DirectShow audio decoding filters:
LAV Audio [version 0.62-5-ga731178] ffdshow [version 1.3.4530] AC3Filter [version 2.6.0b]
DirectShow audio parsers:
DC-Bass Source Mod [version 1.5.2] Monkey's Audio (DCoder) [version 1.0]
DirectShow source filters:
LAV Splitter [version 0.62-5-ga731178] Haali Media Splitter [version 1.13.138.14]
DirectShow subtitle filter:
DirectVobSub [xy-VSFilter version 3.0.0.300]
Other filters:
madVR [version 0.87.10] Haali Video Renderer [version 1.13.138.14]
VFW video codecs:
ffdshow VFW interface
XviD [version 1.3.2] x264 [revision 2274] Lagarith [version 1.3.27] huffyuv [version 2.1.1 CCE Patch 0.2.5]
ACM audio codecs:
MP3 (LAME) [version 3.98.2] AC3ACM [version 2.2]
Tools:
Codec Tweak Tool [version 5.8.3] MediaInfo Lite [version 0.7.69] GraphStudioNext [version 0.6.1.403] VobSubStrip [version 0.11] Haali Muxer
FourCC Changer
Shell extensions:
Icaros ThumbnailProvider [version 2.2.6 b2] Icaros PropertyHandler [version 2.2.6 b2]
GUIA DE INSTALACION – K LITE
Freeware | Inglés | 42.1 MB | Windows 2000/ 2003/ 2008/ XP/ Vista/ 7/ 8/ 8.1/ 10 | x32-bits y x64-bits

K-LITE CODEC PACK – OTRAS VERSIONES
K-lite Codec Pack 13.0.0 FULL
=
K-lite Codec Pack 13.0.0 STANDARD
=
K-lite Codec Pack 13.0.0 BASIC
=
K-Lite Codec Pack Update 13.0.0 Build 20170313
(Esta actualización debe aplicarse sobre la instalación de K-lite en su versión 12.8.0)
---